School Resource Officer (SRO)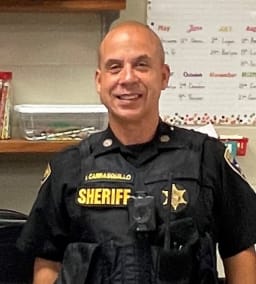 Officer Ivan -
School Resource Officer (SRO)
Email: icarrasquillo@letchworth.k12.ny.us
Phone: (585) 493-3500
School Resource Officer (SRO)
The School Resource Officer (SRO) and the goals of the School Resource Officer Program encompasses many initiatives. While the safety and security of everyone inside the school building on any given day is of the utmost importance, there are also other beneficial goals that the program and/or the School Resource Officer strives for.
These goals include:
Building positive and effective community relations with students, staff, parents and community members.
Working with and assisting school administration and staff with tasks or issues that arise throughout the school day.
Serving as a positive influence to all students, staff and parents.
Discussing and presenting in-class instruction on various issues such as current events, law-related topics, character education and much more.
Attending and being visible at sporting events and other extracurricular activities.
Enforcing and explaining Penal, Vehicle & Traffic or other related laws when requested to do so.
Assisting with and participating in Emergency Drills throughout the school year.
Attending various School Resource Officer Trainings.
The goals stated are just some of what the School Resource Officer and the School District strive for on a daily basis. The program is a vital partnership in our community and the hope is that it continues to grow in the future.